​
Work and Wear Direct are premium distributors of workwear in Essex, including high-visibility clothing, safety footwear and personal protective equipment (PPE).
At Work & Wear Direct, we have over 20 years of experience in the construction industry. During this time, we have learnt exactly what it takes to provide high quality products for the workwear industry at the most competitive prices. As such, Work & Wear Direct is the place to view and buy a huge range of workwear, PPE (personal protective equipment), safety footwear, hand tools and hundreds of other products online at some of the most competitive prices available in the industry. We also provide a printing and embroidery service so that you can add your business logo or name, branding your company clothing.
As a supplier of workwear in Essex, our customers return to us again and again because they know that at Work & Wear Direct, they receive both high quality products and outstanding customer care, all at an amazingly low cost! Our expertise, as a supplier of workwear in Essex, has also secured us contracts with major UK construction and groundwork companies. The customer care that we provide at Work & Wear Direct remains our number one priority and we promise to always remain committed to providing excellent products and services to the workwear sector.
We are based in Southend, Essex and ship to anywhere in the UK. Our items are sourced from the UK and internationally.
www.workandweardirect.co.uk
Office: 01702 553698
Raymond House, Oak Road South, Hadleigh, Essex, SS7 2BB.
---
Over 30 years experience in the Construction Industry.
Ardent Tide; trusted by the UK construction industry to deliver absolute certainty in CIS payroll and compliance. 30 years of knowledge and experience, coupled with a unique approach, saves our clients valuable time and resource.
---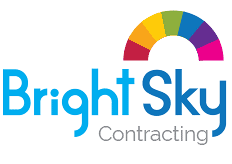 Bright Sky Umbrella Ltd was founded in 2015 by Adam Connell, Managing Director.
After spending 5 years within the umbrella industry, Adam realised certain service and operational feedback from recruitment agencies and contractors was not being taken on board. Changes which would help strengthen these relationships were not actioned. Therefore he set up Bright Sky Umbrella to give him the freedom to implement these changes, ensuring that all aspects were as simple and stress free as possible for all involved. The initial services offered were umbrella and CIS.
With the ever changing legislation within the industry in 2016, the business expanded and added an accountancy arm to the business.
T: 0151 433 7333 / 0151 363 3215
E: info@brightskyumbrella.co.uk
Facebook: Connect with us on Facebook
Linkedin: Join us on Linkedin
Office Address:
Bright Sky Contracting Ltd,
Hanover House,
Hanover Street,
Liverpool, L1 3DZ